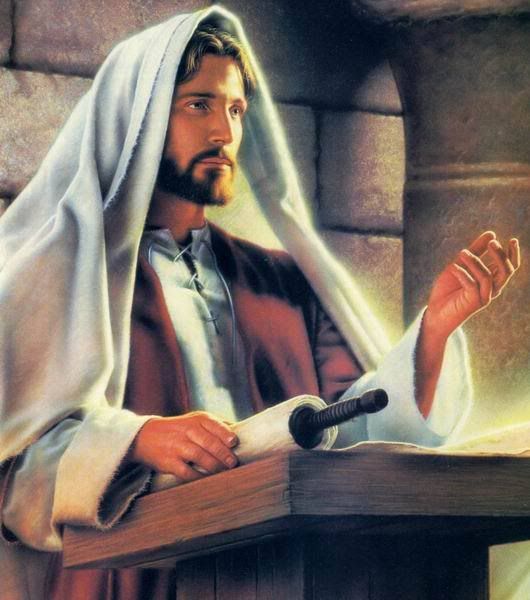 I was thinking the other day about how unique the Church of Jesus Christ of Latter-day Saints really is. Last Sunday, a friend at work was telling me about having attended Church that morning. She had attended a "contemporary" church service and commented how much more fun it was than the "traditional" services she has attended before. That got me thinking just how boring LDS meetings can be sometimes. We don't have a band, no paid clergy, no mega-sound system, sometimes the choir is off-key. But thats just fine with me. What sets the LDS church apart is the truth, testimony, and the Holy Ghost who testifies of truth.

I have noticed, when the prophets give a talk, they don't sound preachy, or tearful, or intellectual. They just talk matter-of-fact. They don't want their emotion to detract from the truth of their message. I think this serves as a great example of how we in the church should teach and bare testimony. The Holy Ghost job is to testify of truth. Therefore, all we need to do is speak truth and testimony and we will invite God's presence. So, I think the best talks try not to be overly emotional, intellectual, spiritual sounding, or preachy. There is nothing wrong with getting a bit choked up at times. But we should be careful that our manner of speech does not detract from the truth of our message. The truth is enough all by itself.
John 8: 32
And ye shall know the truth, and the truth shall make you free.
John 16: 13
Howbeit when he, the Spirit of truth, is come, he will guide you into all truth:
1 Cor. 1: 10
Now I beseech you, brethren, by the name of our Lord Jesus Christ, that ye all speak the same thing, and that there be no divisions among you; but that ye be perfectly joined together in the same mind and in the same judgment. . . . Is Christ divided?
1 Cor. 2: 1-14
And I, brethren, when I came to you,
came not with excellency of speech
or of wisdom, declaring unto you the testimony of God. For I determined not to know any thing among you, save Jesus Christ, and him crucified. And I was with you in weakness, and in fear, and in much trembling. And my speech and
my preaching was not with enticing words of man's wisdom
, but in demonstration of the Spirit and of power: That your faith should not stand in the wisdom of men, but in the power of God. . . But the natural man receiveth not the things of the Spirit of God: for they are foolishness unto him: neither can he know them, because they are spiritually discerned.