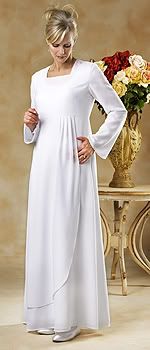 The garment is meant to be a reminder of your devotion to God. But unlike jewelry, only the person wearing them knows about it. Therefore, the garment is not meant to be pretentious, but a private outward expression of an inward commitment. In this way they are a spiritual protection in that they they remind the wearer of their covenant with Jesus Christ. The garment is patterned after the garment made by God for Adam and Eve when they realized they were naked in the Garden of Eden. It also figuratively represents the atonement of Christ which serves to cover our unworthiness and sinfulness before our Heavenly Father. And again, the garment serves as a reminder that Christ's grace will not only save us in our sins, but also from our sins. For, by His power, we will become fully sanctified and perfected. Sanctification is the new everlasting purpose, pattern and covenant of the restored temple.
Those who are called and chosen as John says must be called as was Aaron as Paul says. Therefore, the temple "sealing" is like a priestly ordination and kingly coronation and like Aaron those who are called and chosen are washed. Anointed, and clothed in white robes and undergarments.
Where is this temple? It's not in heaven because there is no temple in heaven. There is no place set aside in heaven as holy. All heaven is holy. Remember that John sees the Earth in it's heavenly glory and says " there is no temple there" but in the Last Days and in the Millennium Christ will give us the temple if the new and everlasting covenant, until Gods people have completed the work of complete sanctification and the temple or mountain of the Lords house fills the whole Earth.